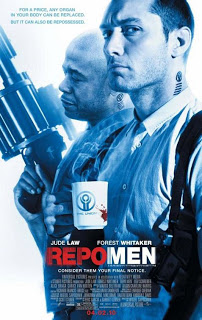 There is not really much I can say about this film. It's pretty much the type of sci-fi/action thriller that has been done countless times before (and some critics went as far to say that Repo Men rips off those other types of films).
The film is not perfect. After a strong opening, the film loses its footing someone in the second act before making it up with the hyper-violent action-filled climax.
Also the film makes nice addition to the "Films that Poorly Disguise Toronto" files. Not only did I recognize landmarks, such as The Eaton Centre and Yonge-Dundas Square, but there were also TTC subways with the logo prominently visible. If I didn't know better, I would have thought the film took place in the city.
All in all, I have to say that Repo Men was a good waste of a Saturday afternoon.
8/10