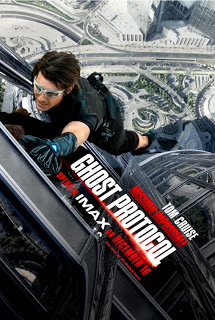 In a bit of a unique move, the fourth entry of the Mission: Impossible series was released in IMAX a full five days before it goes into wide release. This is, in my opinion, a good way to get people into IMAX theatres to see the film (there are so many IMAX alternates these days), since it's obvious that this film was made specifically for the format.
Many action scenes for the film were filmed with IMAX cameras. The most spectacular of which was a Spider-Man-esque climb up a building at dizzying heights. It quite possible that you might actually experience vertigo while watching this scene.
As for the rest of the film, while you may question the need for a fourth film in this 15 year old series (I personally thought that Mission: Impossible III was a good conclusion), it ended up being a decent enough film. Jeremy Renner joins the cast as new character Brandt (a character rumoured to take centre-stage in future sequels) and Simon Pegg's comedic computer expert Benji from the last film gets promoted to full team member in this one (and essentially replaces Ving Rhames' Luther Stickell – who still appears in a brief cameo). Rounding out the cast is Paula Patton as female team member Jane and Swedish actor Michael Nyqvist (The Girl with the Dragon Tattoo) as the villain Hendricks.
I actually thought that the plot of the film (which had the entire team disavowed and forced to work rogue) very reminiscent to the plot of the first Mission: Impossible film – albeit on a much larger scale. It's probably not the most original plot in the series (Mission: Impossible III is still the best in that regard), but it made for an entertaining 2+ hours.
8/10