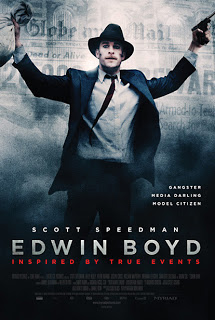 The second film I saw at Canada's Top Ten also happened to be the film that won Best Canadian Film at the last film festival.
Edwin Boyd is a film that tells the story of the notorious Canadian bank robber of the same name. The film tells how Edwin Boyd (played by Scott Speedman) got into a life of crime as a way to support his family in the tough years following World World II. It's definitely an interesting story, especially the sad irony that Edwin Boyd's crime spree (which made him one of the most wanted men in the country) resulted in him losing the very thing he started robbing banks for – his family.
Overall I thought that it was an intriguing biopic. It also featured a very impressive supporting cast, for Canadian film, which includes Kelly Reilly, Kevin Durand, and Brian Cox. It was definitely an enjoyable film.
8/10
I won't be seeing another Canada's Top Ten film until Thursday, however it will be the film I am most looking forward to – David Cronenberg's A Dangerous Method