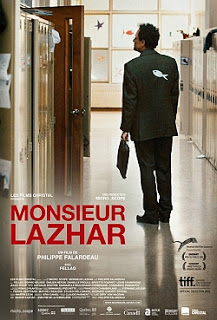 I saw Canada's Oscar nominee for Best Foreign Language film on Friday evening, but a busy couple of days have prevented me on saying anything about it until now.
Quite simply, Monsieur Lazhar is a film about a schoolteacher in Montreal, who takes over a class following the tragic suicide of their previous teacher. The film deals both with how the student's are coping with their teacher's suicide, as well as Lazhar's backstory as a recent immigrant from Algeria.
We learn something quite huge about Lazhar rather earlier on, but somewhat surprisingly, it doesn't become much of a factor in the story until close to the end. Instead, we are treated to a film about how Lazhar gains the respect and admiration of his students, many of whom are mature beyond their years.
Another interesting theme to come up in the film involves what it's like being a teacher in an ultra-politically correct society, where the over-protection of children is prevalent. One of Lazhar's fellow teachers laments on how they are excepted the treat kids like they are radioactive. In another scene, the parent of Lazhar's students that he should "teach her, not try to raise her." The message that comes out in the film is that perhaps the kids don't need as much protection as their parents think they do.
Overall, I thought that Monsieur Lazhar was a pretty good film and I can understand why the film got its Oscar nomination.
8/10