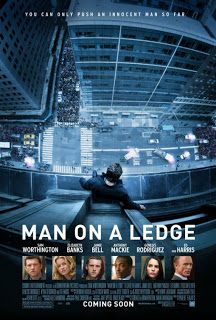 Last week when it opened, Man on a Ledge was overshadowed by The Grey and barely registered in the top five with an opening gross of only $8M. However, after finally getting around to seeing the film today (I chose it instead of Woman in Black, which I already saw or Chronicle, which I feared would make me motion sick), I can say that it was a very entertaining heist thriller.
The story of the film is very simple: Nick Cassidy (Sam Worthington), a cop wrongly accused of stealing a diamond from wealthy real estable mogul David Englander (Ed Harris), breaks out of jail and, in a desperate move to clear his name, climbs out onto a ledge of a hotel to act as a distraction, while his brother Joey (Jamie Bell) tries to steal the diamond for real to prove with was still in Englander's possession. Rouding out the cast is Elizabeth Banks as police negotiator Lydia Mercer, Anthony Mackie as Nick's old partner Mike, and Genesis Rodriguez as Joey's girlfriend Angie.
The film is a very straight-forward thriller, however I thought it was extremely fun to watch and since the film moves back and forth between Nick on the ledge and the heist, it's not as monotonous as you would expect a film entitled Man on a Ledge to be. I definitely recommend checking it out.
8/10