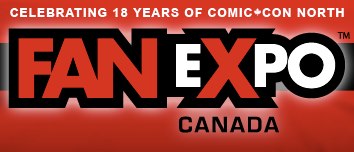 We are only three days away from the start of Fan Expo 2012. It is now the third largest convention of its kind in North America (behind the San Diego Comic-Con and New York Comic-Con) and it can be very easy to get overwhelmed by this very large convention.
In fact, it's probably best to get a full weekend pass instead of a basic single-day admission. While the basic passes are less expensive, you will only be able to see a small percentage of what Fan Expo has to offer.
In this post, I thought I would breakdown the official schedule and try to point out the events and attractions that you shouldn't miss.
Autographs and Photo-Ops
The selling point of most conventions are the celebrity guests that show up to meet and greet with the fans. While there will be plenty of opportunities for free autographs at the Expo (mostly by lesser known talent), the celebrity guests will charge a fee to put their pen to paper. Another growing trend in recent years involves you paying to have a professional photo taken with you and the celebrity.
Depending on the popularity of the celebrity, you will be paying anywhere between $25 and $80 for an autograph and/or photo. Fan Expo posted a convenient price chart, so you can plan your spending wisely (in addition, here's the photo-op schedule).
Panels
In addition to meeting celebrities face-to-face, they will also participate in a series of Q&A panels. Since each are often an hour long, panels are the most likely to eat up time in your schedule. As such, make sure to only attend the ones you absolutely want to see.
Here is a list of what I consider to be the must-see panels of the convention:
Stan Lee – Thursday 7:00pm – Hall G
Cast of Flashpoint – Friday 3:00pm – Room 716
Levar Burton – Friday 4:00pm – Hall G
The Future of Fun with the cast of Electric Playground – Friday 5:30pm – Room 701
Cast of Lost Girl – Saturday 12:00pm – Hall G
Kate Mulgrew – Saturday 1:30pm – Hall G
Cast and Creators of Continuum – Saturday 3:00pm – Hall G
Norman Reedus and Jon Bernthal (from The Walking Dead) – Saturday 4:30pm – Hall G
John Carpenter – Sunday 12:00pm – Room 701
Gillian Anderson – Sunday 1:30pm – Hall G
Christopher Lloyd – Sunday 3:00pm – Hall G
Billy West – Sunday 4:00pm – Room 701
The Showfloor
Of course you can't have a convention without a
showfloor
. While about 90% of the 200,000 sq ft floor will be dedicated to retailers that sell everything from comics to figurines to DVDs, there will also be a number of attractions stationed on the floor.
As such here are my points of interest:
The main attraction on the floor this year is an exhibition of props, sets, and puppets from Tim Burton's upcoming stop motion film Frankenweenie. You will be able to find this at booth 950.
The DeLorean Time Machine from Back to the Future will be on display. If you want, you can even pay ($75) to have your photo taken with Christopher Lloyd and the car.
The Toronto After Dark film festival will be announcing the first half of this year's festival at booth 1719.
An attraction from previous years that I'm sure will probably return this year are movie studio promotions that allow you to insert yourself onto a movie poster via green screen. Check out the Alliance (booth 1138) or Warner Bros (booth 1156) areas to see what's offered.
Some other booths that'll probably be worth stopping by:

Continuum (booth 744)
Dead Before Dawn 3D (booth 856)
Electric Playground/G4 (booth 558)
Rue Morgue (booth 2028)
Space (booth 1737)
XBOX 360 (booth 2154)
Wreck-it Ralph (booth 400)
Other Events
While all of the above is enough to keep you busy throughout the entire weekend, there is still much more happening at Fan Expo. In fact, there is a full schedule of events and workshops happening in the many different rooms of the Metro Toronto Convention Centre's South Building.
While it will be next to impossible to see them all, here are some highlights of the other events happening this weekend during Fan Expo:
Lou Ferrigno Ribbon Cutting (Hulk cosplay required) – Thursday 10:30am
Fan Expo Speed Dating (hosted by 25dates.com) – Various Times all Weekend – 803A and 803B
A Fan Expo Canada Wedding – Friday 1:00pm – Hall G
DC Entertainment All Access – Friday-Sunday 1:00pm – Room 716
Star Wars Masks, Props, and Costumes Workshop – Friday 6:00pm – Room 717
Voice Acting 101 with Veronica Taylor – Friday 6:00pm – Room 715
Screening: J.J. Abrams' Revolution – Friday 6:00pm – Room 701
Jay and Silent Bob Get Old Podcast (Special Ticket) – Friday 8:00pm – Hall G
Fan Expo Kick-Off Party (Off Site) – Friday 10:00pm – Tattoo Rock Parlour
So You're A Gamer and No One Understands You – Saturday 11:00am – Room 715
Pokemon DS Party Hosted by Veronica Taylor – Saturday 12:00pm – Room 709
What is Goth? – Saturday 12:00pm – Room 703
Marvel: Amazing Spider-Man – Saturday 1:00pm – Room 714
Innerspace Live! – Saturday 2:00pm – Room 714
Masquerade – Saturday 8:00pm – Hall G
Candyman Screening (Off Site) – Saturday 9:00pm – TIFF Bell Lightbox
History of Videogames – Sunday 11:00am – Room 713
Dead by Dawn 3D Presentation – Sunday 12:00pm – Room 714
Marvel: X-Men – Sunday 1:00pm – Room 714
Brandon Cronenberg presents Antiviral – Sunday 3:00pm – Room 716
Who is The Doctor? – Sunday 3:00pm – Room 703
Exclusives
Last, but not least, Fan Expo always has a number of exclusives available for you to purchase. A hot item for sure will probably be the Big Bang Theory T-Shirt and Plushie combo, which will be going for $30 or you can also just settle for the $10 Fan Expo combo, which will get you a bag, poster, and lanyard.
Also, don't forget to pick-up some free iTunes download cards. One of this year's cards will allow you to download 3 free episodes of Doctor Who, while the other will get you the Avengers Origins: Hulk app.
Well, that's a very in-depth rundown of this year's Fan Expo. I will try to write daily reports the same way I did
last year
. It is sure going to be a busy weekend.