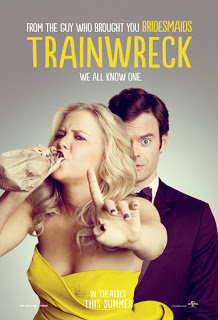 A woman who does not believe in relationships falls for a sports doctor in Trainwreck. Inspired by the failed marriage of her father Gordon (Colin Quinn), Amy Townsend (Amy Schumer) has been perfectly content with having a series of one night stands, without any real need for a monogamous relationship, as opposed to the married lifestyle of her sister Kim (Brie Larson). Amy is assigned by the magazine that she writes for to do a piece on sports doctor Aaron Conners (Bill Hader) and the two quickly find themselves falling for each other. However, Amy's commitment issues might end up getting in the way of this new union.
Directed by Judd Apatow, Trainwreck is the first major starring role for comedian Amy Schumer, who also wrote the film. Schumer is best known for her sketch comedy TV series Inside Amy Schumer, as well as bit parts in films, such as Seeking a Friend for the End of the World. It can be said that Trainwreck is a romantic comedy about a woman who does not fill traditional gender stereotypes. Amy does not having a model-like body-type, yet is perfectly happy with her writing job and her many random hook-ups.
Trainwreck is the first film that Judd Apatow has directed that he hasn't written himself. This is probably for the best, since he had started injecting too much of himself into his films, particularly in his somewhat disappointing last film This is 40. Trainwreck is truly Amy Schumer's show and it is quite refreshing to watch a romantic comedy starring someone, who can be best described as an average female. Since, Hollywood really tries to force-feed the image of ultra-thin females, so it is great seeing a film starring a woman with a more typical body-type, who is still quite attractive.
The question that has to be asked in regards to the film is what exactly makes Amy a trainwreck? It can be theorized the the title of Trainwreck has more to do with how others view Amy's life, which includes much casual sex and heavy drinking, than she views her own. At the same time, Amy is someone who is afraid of change. When she begins to truly fall for Aaron, Amy begins to get scared about how this will affect her familiar routine. She will have to find the right balance, if her relationship with Aaron is expected to work out.
In typical Judd Apatow fashion, Trainwreck is filled with many familiar celebrity faces, including substantial supporting roles by professional wrestler John Cena and basketball superstar LeBron James. The film also sports many Saturday Night Live personalities, including alumni Colin Quinn as Amy's father. Then there is a very unrecognizable Tilda Swinton, who is playing Amy's very mean boss Dianna.
Despite the title, I will say that Trainwreck is anything but and it really is a romantic comedy that I can get behind.
★ ★ ★ ★ | LIKED IT