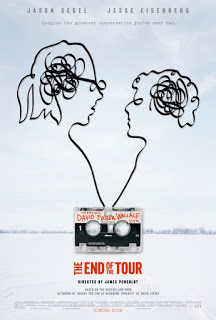 The 1996 interview between Rolling Stone reporter David Lipsky and acclaimed novelist David Foster Wallace is depicted in The End of the Tour. One day journalist David Lipsky (Jesse Eisenberg) recieves the news that author David Foster Wallace (Jason Segel) has died of an apparent suicide. This results in Lipsky flashing back to the time he first met Wallace, as he accompanied him on the final stop of the book tour for Wallace's acclaimed novel "Infinite Jest."
Going into The End of the Tour, I will admit to not being that familiar with David Foster Wallace, so much of the information about him featured in the film was relatively new to me. The film is more or less a long conversation between Wallace and David Lipsky, with there being very few other characters in the film.
Probably the biggest thing that I took away from The End of the Tour is the excellent dramatic performance by Jason Segal. This is very much an example of playing against type, with Segal being known mostly for his comedic work. It would definitely be nice if this performance got Jason Segal some awards attention, even though the film is kind of coming in a bit under the radar. In some ways, Jason Segal's performance in the film somewhat overshadows Jesse Eisenberg, who is essentially there to react to Segal and get a bit confrontational at select moments. While Segal and Eisenberg are the primary focus of The End of the Tour, the film also features appearances by the likes of Joan Cusack, Mickey Sumner, and Anna Chlumsky.
While the plot of The End of the Tour is decent enough, it can be argued that the film is ultimately much more about the performances than the actual story. That said, the film does have a bit of fun with its 1996 setting, with there being many pop culture references to the time period. This includes David Foster Wallace being a fan of Alanis Morissette and there is a trip to the movies at one point to go see Broken Arrow.
Like I said earlier, I was not previously all that familiar with David Foster Wallace, so I cannot really tell if his depiction in The End of the Tour is representative of the real person. However, the film does have one hell of a great performance by Jason Segal, which shows that this traditionally comedic actor really has some dramatic chops.
★ ★ ★ ★ | LIKED IT