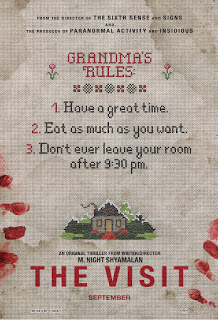 M. Night Shyamalan directs this found-footage thriller about two kid's visit to their grandparent house in The Visit. Becca (Olivia DeJonge) and Tyler (Ed Oxenbould) travel to a small town in Pennsylvania to stay with their grandparents John (Peter McRobbie) and Doris (Deanna Dunagan), while their mother Paula (Kathryn Hahn) goes on a cruise with her new boyfriend. Becca decides to film a documentary of the visit and finds that even though John and Doris seem friendly during the day, they begin acting strangely at night.
M. Night Shyamalan has had it rough for a more than a decade now, with audiences steadily turning against him after 2004's The Village. While the director still has fans, myself included, it can be argued that the filmmaker hasn't had a true hit film since 2002's Signs. After his hired hand position directing the 2013 Will Smith vehicle After Earth, Shyamalan has teamed up with Blumhouse Productions to direct the relatively small scale found footage film The Visit.
For The Visit, Shyamalan opted to blend together comedy and horror, which makes for a film that is a little bit tonally inconsistent. The film features both the best and worst elements of the found footage genre and the question really has to be asked whether The Visit really needed to be presented this way or if it was just a convenient way to have Shyamalan make the film for as low a budget as possible.
The film features somewhat cliched characterizations for the protagonists, with Becca being the somewhat egotistical director of this documentary and Tyler being the obnoxious younger brother, who love doing freestyle raps, which causes Becca to describe him as "ethnically confused" at one point. As for the grandparents themselves, they end up accomplishing the balance between being completely normal and friendly and having somewhat odd behaviour.
Undoubtedly, many have been conditioned to go into a M Night Shyamalan film and ask themselves "What is the twist?" It is almost unfair to put this level of expectation on the director, who has directed some quite intriguing films over a career, which has now spanned over two decades. While it can be said that The Visit does have a big revelation to it, it's relatively much more simple than the "twists" that have been in Shyamalan's earlier films. The revelation also results in probably some of the best tension Shyamalan has had in a film since Signs, with the final act of The Visit truly being a return to form for the director.
Even though the found footage format was unnecessary and the tone was very inconsistent, The Visit still has signs that Shyamalan is going back in the right direction, after a number of films that were mixed at best.
LIKED IT