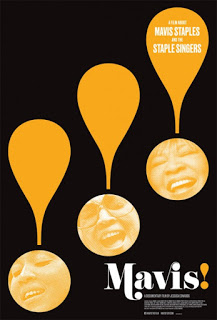 The story of legendary gospel singer Mavis Staples is told in the biographical documentary Mavis!. Mavis Staples began as the lead singer of the Staples Singers, founded in 1948 by her father Roebuck "Pops" Staples. The band had success in the gospel community for about two decades, before they founds success in other genres, including folk, R&B, and rock. Mavis eventually takes off as a solo performer and has been performing constantly for six decades.
Mavis! is a typical music documentary, in how it shows the ups and downs of Mavis Staples' long career. Mavis started singing with her father and siblings as a child and received notice for her ability to sing in a very low voice. The Staples singers were heavily inspired by the civil rights movement and wrote freedom songs in support, particularly the song "Why am I Treated so Bad?". The group would later find a whole new audience in the 1970s, as they topped the R&B charts and they would even filter into the rock scene and make an appearance in the The Last Waltz, singing the song "The Weight" with The Band..
Mavis! is pretty enjoyable biography, which features performance scenes throughout. The film features appearances by a number of well known performers, including Bonnie Raitt, Bob Dylan, and Wilco's Jeff Tweedy, the latter of whom is now Mavis' main record producer, responsible for her 2013 album "One True Vine". The film also features an appearance by The Band's Levon Helm, which was presumably filmed shortly before his death in 2012.
One of the major recurring elements of Mavis! is the close relationship that Mavis Staples had with her father Pops, with the two of them being the only constant members of the Staples singers over the course of their career. One of the most emotional moments of the film comes when Mavis breaks down in tears when she listens to the final album Pops recorded before he died, which Jeff Tweedy stepped in to finish.
Mavis Staples has had a musical career that is longer than most and she vows that she will keep on bringing love and music to the people until she cannot sing anymore. With a very storied career and enjoyable performance scenes, Mavis! is a biography that is sure to please audiences and have them leaving the theatre happy.

LIKED IT
Mavis! opens today at the Bloor Hot Docs Cinema