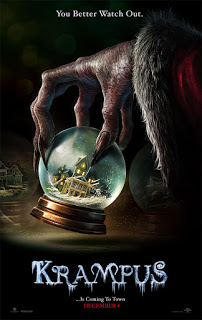 A family is tormented by the dark shadow of St. Nicolas in Krampus. Tom (Adam Scott) and Sarah (Toni Collette) have to put up with another stressful Christmas with relatives Howard (David Koechner), Linda (Allison Tolman) and Aunt Dorothy (Conchata Ferrell). The family bickering is enough for Tom and Sarah's son Max (Emjay Anthony) to give up on the spirit of Christmas and tear up his letter to Santa. However, in doing so, Max attracts the attention of Krampus and his helpers, who arrive to punish the naughty.
Michael Dougherty (Trick 'r Treat) returns with another holiday-themed horror story with Krampus, which is inspired by the creature of German-speaking Alpine folklore. This is actually the second film to be released this year to feature Krampus, since a different interpretation of the character was present in A Christmas Horror Story. Krampus very much depicts the creature as an evil version of Santa Claus, who is assisted by his helpers to terrorize this family.
Similar to Trick 'r Treat, Michael Dougherty accompanies the horror of Krampus with a very dark sense of humour. Much of this comes in the form of Krampus' helpers, who take the form of evil Christmas presents, such as gingerbread men or a monstrous Jack-in-the-Box. It seems Krampus is trying to evoke a similar feeling to Steven Spielberg produced horror films, such as Gremlins or Poltergeist. However, despite the dark humour that is present throughout Krampus, the film is still very much a horror film and there is much violence and death present, despite having a PG-13 rating.
Probably the most interesting touch to Krampus is the inclusion of an animated flashback sequence, which tells the story of Krampus. I like this sequence so much that I would have almost liked to have seen a full animated film about the Krampus folklore. Despite the film being titled Krampus, the actual Krampus only plays a small role in the overall plot of the film, with much of the horror being perpetrated by its helpers. It is not really until towards the end of the film when we finally become fact-to-face with this Christmas demon.
It's hard to tell what type of audience Krampus is aiming for. While the film seems to have a similar feel of the "family friendly" horror tales from the 1980s, the film ultimately turns to be much darker than expected. However, I still enjoyed the film for its dark humour and those who enjoyed Michael Dougherty's Trick 'r Treat should dig this film as well.

LIKED IT