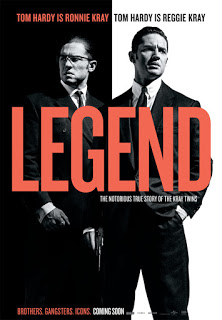 Tom Hardy stars as the infamous London gangsters The Krays in Legend. Reggie and Ronnie Kray (Hardy) are twin gangsters in London during the 1960s. Reggie, the more level-headed of the two, fronts his criminal enterprises as the head of a nightclub, white Ronnie is a mentally unstable violent psychotic. All the while, the actions of the two are being investigated by Leonard "Nipper" Read (Christopher Eccleston). Reggie meets and falls in love with Frances Shea (Emily Browning), who wants Reggie to leave behind his gangster ways, though he finds that he likes it too much.
Legend is a biographical crime film about the legendary Kray twins, who were responsible for most of the organized crime in the East End of London during the 1950s and 1960s. Tom Hardy plays the double role of each of the Kray brothers, with him giving a different performance for each. Arguably, Hardy's performance as Ronnie Kray is the more showy of the two, since Ronnie's mental instability causes him to mumble his dialogue and he is ready to strike out with violence at a moment's notice.
Much of the plot of Legend seems to challenge the notion that Reggie is the "good" Kray brother and Reggie is the "bad" one. While less outwardly psychotic, Reggie is still prone to violence in his own right, which puts a strain on his relationship with Frances. In many ways, Legend is told from Frances' perspective, since she is the one that is narrating the story of the Krays and her role as a witness to their criminal activities, which get progressively worse as time moves on. Legend also has a very notable supporting cast, including Christopher Eccleston as the police detective investigating the Krays, David Thewlis as the Kray's business manager, and Chazz Palminteri as an American mafia contact.
If anything, Legend would be worth seeing for the performance by Tom Hardy in the lead roles. This is far from the first time a single actor as played twin characters, with The Parent Trap and Dead Ringers being notable examples. However, technology has advanced to the point now where it is quite seamless to have Hardy acting with himself for much of the film. The personalities of the Krays are different enough that it is quite easy to tell the difference between the two, even though they are being played by the same actor. Plotwise, the film does drag a bit with the film's 132 minute running time being quite noticeable by the end.
While it's ultimately little more than a straight-forward biographical crime thriller, Legend still has an interesting historical significance to it.
FAIR