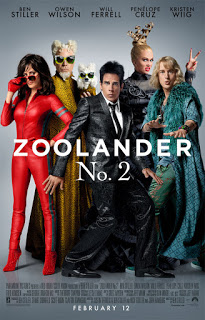 Derek Zoolander and Hansel return for more adventures in the world of male modelling in Zoolander 2. After a tragic accident, Derek Zoolander (Ben Stiller) and Hansel (Owen Wilson) have entered into separate lives of seclusion. They resurface to be part of a fashion show in Rome put on by Alexanya Atoz (Kristen Wiig), with Zoolander hoping to be reunited with his son Derek Jr (Cyrus Arnold). However, both Zoolander and Hansel end put being recruited by Fashion Interpol agent Valentina Valencia (Penélope Cruz) to solve a criminal conspiracy, which may be perpetrated by Zoolander's old nemesis Jacobim Mugatu (Will Ferrell).
Since its release back in 2001, Ben Stiller's male modelling satire Zoolander developed somewhat of a cult following. As a result, the entire cast reunites for a sequel, which may be arriving a bit too late. That said, the film does take advantage of the fifteen year gap between films to address changes in pop culture that both Zoolander and Hansel would be oblivious to. This includes the fact that phones have gone from really small to really large and that Derek and Hansel are greeted by the hipster Don Atari (Kyle Mooney), who simultaneously gives them hate and love. Then of course there's a cameo by Benedict Cumberbatch as the androgynous model All, whose reaction by Zoolander and Hansel is somewhat uncomfortably transphobic.
I don't really have an issue with the fact that Zoolander 2 recycles practically every joke from the original, whether it be a scene accompanied by "Wake Me Up Before You Go-Go" or Mugatu throwing coffee onto his assistant Todd. In fact, I would say that some of these jokes do hit, especially if they are accompanied by one of the many gratuitous celebrity cameos. However, there are also many jokes that fall flat, such as Fred Armisen appearing superimposed onto the body of an eleven year old or the aforementioned hipster and transsexual jokes.
The actual plot of Zoolander 2 is much weaker than the original, which I already wasn't the hugest fan of. The film starts off with a MacGuffin involving pop stars being assassinated, which is kicked off by the opening scene of Justin Bieber being gunned down, before taking a selfie of himself doing one of Zoolander's poses. However, everything is ultimately a new scheme by Jacobim Mugatu, who has been plotting his revenge while in prison. While Will Ferrell is solid in his reprisal of the role, Mugatu doesn't really factor into the plot until the third act, with the bulk of the villainous duties going towards Kristen Wiig's absolutely garish Botox-ridden fashion icon Alexanya Atoz.
It can probably be said that Zoolander 2 is a little bit too little, too late. While the fans of Zoolander's really, really ridiculously dumb humour might find something to laugh at, the rest will simply find the film to be a really, really ridiculously dumb movie.
WATCHABLE