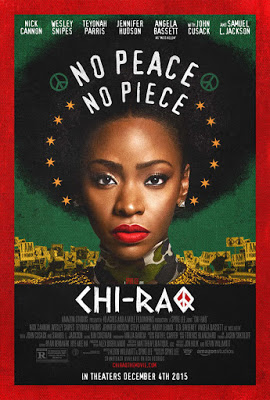 A young woman fights for peace among the street gangs of Chicago in Chi-Raq. In the south side of Chicago, a violent gang war is in progress between the Spartans lead by Demetrius "Chi-raq" Dupree (Nick Cannon) and the Trojans lead by Sean "Cyclops" Andrews (Wesley Snipes), with tensions reaching their peak when the 11 year old daughter of Irene (Jennifer Hudson) is gunned down in the street. Encouraged on by Helen Worthy (Angela Bassett), Chi-raq's girlfriend Lysistrata (Teyonah Parris) decides to take matters into her own hands and organizes a "sex strike," where the woman withhold their bodies, until the gangs can agree to piece.
For his latest joint, director Spike Lee takes the Classical Greek play Lysistrata and adapts it into a modern satire about the gang wars in Chicago. With the violence and death in Chicago rivaling the war in the middle east, many have come to nickname the city "Chi-Raq," merging Chicago with Iraq. Chi-Raq is also the stage name used by rapper and gang leader Demetrius Dupree, who is at the centre of this gang war that is terrorizing the streets in this south Chicago neighbourhood. Only the efforts of Lysistrata can hope to end this bloodshed once and for all.
Chi-Raq is film that is hard to classify under a single genre. At times, the film is an over-the-top satire and at others the film is a more serious commentary on gang violence. Much of the dialogue of film is spoken in rhyme and the events are commented upon by the one man Greek chorus of Dolmedes (Samuel L. Jackson). On top of all of that, there are even musical and dance sequences, included the film's opening song being presented in a "sing-a-long" format. While the plot of Chi-Raq, involving women refusing to engage in sex until the violence stops, is somewhat on the ridiculous side, the film does make some poignant commentary about race, gun culture, and gender relations.
Chi-Raq features a standout performance by Teyonah Parris (Dear White People) as Lysistrata, with this undoubtedly being a breakout role for her. The film also has a very stacked supporting cast, including a surprising turn by John Cusack as Father Mike Corridan, who gives an incredibly passionate sermon in the film about the effects of gun violence.
With its message about anti-violence, Chi-Raq can be described as a somewhat optimistic film. While part of this might be wish fulfillment by Spike Lee, the film does end up getting its point across in a very big way.

LIKED IT