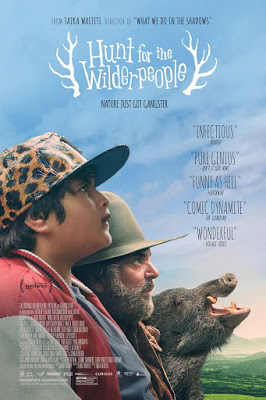 A delinquent boy and his foster uncle find themselves on the run in the New Zealand bush in Hunt for the Wilderpeople. Ricky Baker (Julian Dennison) is a trouble-making boy, who is given one last chance by child services social worker Paula (Rachel House), before she sends him to juvenile prison. Ricky is dropped into the foster care of Bella (Rima Te Wiata) and her cantankerous husband Hec (Sam Neill). When tragic circumstances arise, Ricky is in danger of being taken away, so he decides to run away into the bush, with Hec chasing off after him. However, when Paula comes to believe Hec kidnapped Ricky, the two find themselves on the run from the authorities.
From director Taika Waititi (Boy, What We Do in the Shadows) comes this wilderness adventure comedy about a delinquent youth and his growing bond with his constantly grumpy foster uncle. Right from the start, Hec is barely able to get along with Ricky, since it was his wife Bella's idea to get a foster child. However, as the two find themselves having to survive in the bush, the two begin to understand each other better.
Director Taika Waititi has quickly been building a name for himself after the success of 2014's What We Do in the Shadows, with Hunt for the Wilderpeople being a detour on his way to directing next year's Thor: Ragnarök. Hunt for the Wilderpeople isn't as goofy a comedy was Waititi's previous film, even though there are some quite humorous moments. Sam Neill has moved into the "grumpy old man" portion of his career and part of the charm of the film comes from how Hec is barely able to tolerate the actions of Ricky Baker, even though he does build a fondness for him over time.
Hunt for the Wilderpeople has quite an eccentric supporting cast, headed by Rachel House as the quite obsessive social worker Paula, who is constantly repeating her mantra of "no child left behind," while perhaps going a little too far in her efforts to location Hec and Ricky, which includes organizing a full force police search party. Fans of Flight of the Conchords would recognize actor Rhys Darby, who pops up as a crazed woodsman named Psycho Sam. Even Taika Waititi himself pops in for a quite humorous cameo as a minister.
Overall, Hunt for the Wilderpeople is a pretty enjoyable adventure in the New Zealand wilderness, with the film having both laugh out loud humour and heart-tugging dramatic moments. This is one worth checking out.
LIKED IT
Hunt for the Wilderpeople is now playing at Cineplex Yonge and Dundas