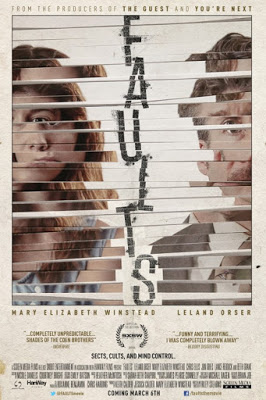 A down on his luck cult deprogrammer tries to save a young woman in Faults. Ansel Roth (Leland Orser) was once one of the top debunkers of cult mind control techniques, however his personal failures has made his life into a wreck. With his latest book a flop, Ansel finds himself greatly in debt to his manager Terry (Jon Gries), who sends the intimidating Mick (Lance Reddick) to collect. Desperate for the money, Ansel agrees to help two parents (Chris Ellis and Beth Grant), who want Ansel to deprogram their daughter Claire (Mary Elizabeth Winstead), whose life has come under the control of a cult known as "Faults."
Faults is the feature film debut for director Riley Stearns, who has previously produced a number of short films with his wife Mary Elizabeth Winstead. Faults is a dark comedy/thriller about a down on his luck cult deprogrammer, who has taken his latest job more for the money than anything else. Ansel kidnaps Claire from a grocery store parking lot and locks her in a motel room, in an attempt to get her to question her devotion to Faults. However, as the days progress, the question has to be asked who exactly is deprogramming who?
If there is one thing that Faults helps to prove, it is that Mary Elizabeth Winstead is a quite excellent actress, who doesn't always get the attention that she deserves. Sure, she has a decent career going for herself in films such as Scott Pilgrim vs the World and 10 Cloverfield Lane, however it is a shame that her stellar indie work, such as her role as a recovering alcoholic in 2012's Smashed, doesn't get noticed too much. Indeed, Winstead's performance in Faults shows that the actress has range and can play characters that have a vaguely sinister quality to them.
Faults can somewhat be compared to the 2011 film Sound of My Voice, in how both feature a charismatic female member of a cult, whose beliefs actually start to make sense to the guy that's trying to debunk them. Without giving away too many of the reveals, it quickly begins to be apparent that perhaps Ansel isn't as in control of this deprogramming session that he believes himself to be and that he actually finds himself in a bit a battle of wits with Claire, who repeatedly seems to move between helpless and controlling personalities.
Altogether, I would say that Faults is definitely a film that is worth seeking out.

LIKED IT
Now Available for Purchase: