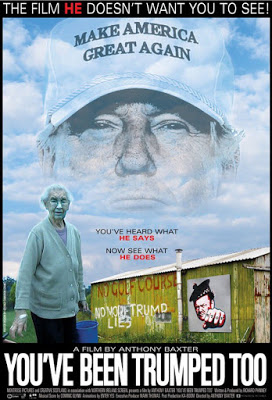 Donald Trump's promises during his 2016 presidential campaign are contrasted with the ongoing hardships of those in Aberdeen, Scotland in You've Been Trumped Too. Five years ago, Donald Trump built a high end golf course on environmentally protected land in Aberdeen, Scotland. The most vocal opponents of the course were Michael Forbes and his 92 year old mother Molly, who now live without a reliance water supply, as the golf course has dried up their well. As Donald Trump announces his candidacy for president of the United States, the Forbes' hope to spread the message that Trump is nothing but a liar, who makes empty promises.
Scottish documentary filmmaker Anthony Baxter has practically made a career for himself covering the effect Donald Trump has had on this small community in Aberdeen, Scotland, first with his 2011 documentary You've Been Trumped and its 2014 follow-up A Dangerous Game. As the title suggests, You've Been Trumped Too is a direct sequel to Anthony Baxter's original documentary, with him using Trump's broken promises surrounding the golf course in Aberdeen as a cautionary tale about the 2016 US presidential election.
Because of it's very timely nature, the decision was made to release You've Been Trumped Too for free online, so it can be viewed by as many people as possible prior to today's election. Since it is a follow-up to the 2011 documentary, it would probably be best to see the original You've Been Trumped first to get the full context of the situation, though Anthony Baxter does make heavy use of clips from the first film to catch viewers up on the situation.
As can be seen in the film, Trump and his family have a very antagonistic relationship with Anthony Baxter, which dates all the way back to Baxter being arrested while filming You've Been Trumped. However, the success of the original documentary has made Trump more open to interviews by Baxter, even though he is still seen avoiding questions and had even threatened to sue anyone who has watched You've Been Trumped Too.
Probably the most poignant event covered in You've Been Trumped Too involves Michael Forbes travelling to the US to share his plight at the Republican National Convention. The film also contrasts a water quality crisis in Flint, Michigan with the problems experienced by the Forbes'.
While a fair argument can be made that Anthony Baxter rushed to release You've Been Trumped Too, with the film remaining online for free until the end of the election, it still continues to show that despite the optimism of his public persona, Donald Trump would rather let a couple of elderly Scottish farmers live without clean water, than deal with the negative publicity that it brings.
LIKED IT
Visit TrumpedFilm.com to access the free stream of You've Been Trumped Too, which will remain up until the end of the day today.