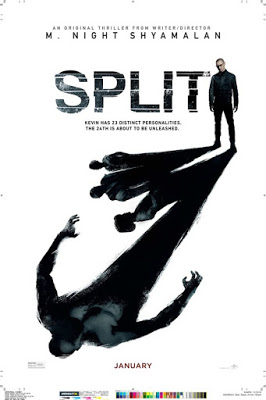 Three girls are kidnapped by a man with dissociative identity disorder in Split. As they are being driven home from a party, Casey (Anya Taylor-Joy), Claire (Haley Lu Richardson), and Marcia (Jessica Sula) are kidnapped by Kevin (James McAvoy) and locked in a basement in an unknown location. The girls quickly realize that Kevin has multiple personalities, ranging from the OCD pedophile "Dennis," psychotic British woman "Patricia," and 9-year old "Hedwig." The girls are told that they will be sacrifices to Kevin's new persona, known only as "The Beast."
M. Night Shyamalan returns with his second collaboration with producer Jason Blum, following 2015's The Visit. Split follows a man with dissociative identity disorder, previously known as multiple personality disorder, who has 23 distinct personalities. Kevin has been undergoing regular sessions with Dr. Karen Fletcher (Betty Buckley), who believes that DID is much more than merely a mood disorder and that those with the condition become who they believe to be.
While most of Kevin's personalities are harmless, he has been completely taken over by the malevolent personalities of Dennis and Patricia, who are preparing for the arrival of The Beast. As part of this plan, they kidnap "unpure youth" to be given as a sacrifice to The Beast. The central of these three girls is Casey, who is revealed through flashbacks to have had a complicated relationship with her father (Sebastian Arcelus) and uncle (Brad William Henke).
It would be a major understatement to say that M. Night Shyamalan has had a difficult time over the last decade or so. After having a series of successful films, such as The Sixth Sense, Unbreakable, and Signs, Shyamalan's stock as a filmmaker began to progressively drop until he became a punchline for more audiences. While I personally did not stop watching and liking Shyamalan's film, Split is probably his first film in a while that ends up being an original concept that is quite well executed.
Much of the success of Split is due to the fully committed performance by James McAvoy, who portrays Kevin's multiple personalities with different accents and mannerisms. This is something that could have easily come off as campy and horrible, however McAvoy makes it worth, with you truly believing that he is playing multiple characters.
Then there is the twist. While the use of twist endings has been a point of contention for much of M Night Shyamalan's career, Split features a revelation that felt both earned and truly surprising. I won't spoil what this revelation is, but I will say that I was left with a big smile on my face.
Overall, Split is M. Night Shyamalan's most original thriller in quite a while, which I would have enjoyed even without the pleasantly surprising revelation at the end.

LIKED IT