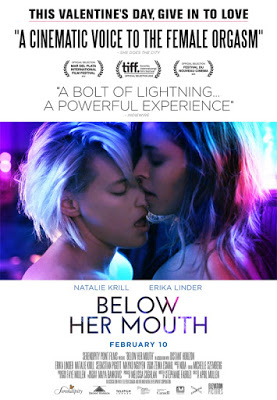 A Toronto fashion editor finds herself in a passionate lesbian affair in Below Her Mouth. Jasmine (Natalie Krill) is the editor of a fashion magazine, who is preparing for her upcoming marriage to her boyfriend Rile (Sebastian Pigott), who goes out of town for a few days. While out drinking with a friend, Jasmine finds herself in a lesbian bar, where she encounters Dallas (Erika Linder), who happen to be a roofer working on the house next door to Jasmine's. The two develop an attraction to each other, which soon turns into a passionate love affair. However, since Jasmine is supposed to be getting married, the question remains whether this connection will last.
Director April Mullen (88) leads a predominantly female cast and crew with the romantic lesbian drama Below Her Mouth. The film follows the two protagonists Jasmine and Dallas, who find a passionate connection developing between the two. In many ways, the film is about Jasmine realizing that she is a lesbian after being encouraged for years to date men. This is the complete opposite to Dallas, who always has been open about her sexuality.
Probably the biggest selling point of Below Her Mouth is that it was made with an all female crew, which isn't something you see too much in films. The cast of the film is also predominantly female, with supporting characters including Dallas' roommate Quinn (Tommie-Amber Pirie) and ex-girlfriend Joslyn (Mayko Nguyen). In fact, Jasmine's fiance Rile is the only major male character in the film and he happens to be absent for much of the running time.
As a romance, Below Her Mouth is actually quite a well-executed film, as Jasmine begins to realize that she is falling in love with Dallas. However, an element of the film that is going to make or break many viewers is the film's very explicit sex scenes, which ends up leaving very little to the imagination. Very much like the much talked about lesbian scenes in 2013's Blue is the Warmest Color, the sex scenes in Below Her Mouth are quite lengthy and possibly unsimulated, with the film featuring much grinding and strap-on use. These scenes really straddled the line between art and pornography and I have to admit that I felt quite uncomfortable watching these scenes play out in a movie theatre, with me witnessing a couple walkouts during a few of more intense scenes.
That all said, I'm not going to judge Below Her Mouth for going no holds barred in its depiction of sexuality, since the film as a whole can be seen as a relatively sex-positive story. However, I am slightly bothered by the obligatory third act conflict that arises when Rile finds out about Jasmine's lesbian affair. While the film does succeed in normalizing lesbian relationships, having a conflict for the sake of having a conflict somewhat takes the air out of the film and there even seems to be something missing from the film's ending.
When it all comes down to it, Below Her Mouth is a film that is hard for me to fully recommend. While the romantic elements of the film are somewhat well done, the very intense and graphic sex scenes are very likely going to turn off many viewers. At the very least, you can add Below Her Mouth to the growing number of interesting films made by women.

FAIR