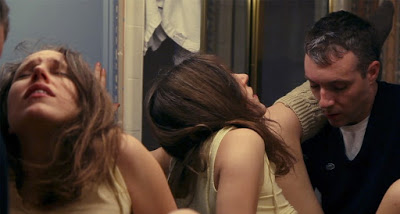 Two artists film the events that lead up to the end of their relationship in Flames. Josephine Decker and Zefrey Throwell are New York based multidisciplinary, who are passionately in love with each other. On a whim, they decide to take a spontaneous trip with each other, which marks the beginning of the end for their love affair. Filmed over the course of five years, the two try to determine what exactly went wrong with their relationship.
The best description of Flames is that it is performance art meets reality, with the line between the two being blurred throughout this documentary. Josephine Decker and Zefrey Throwell are not afraid to liberally reveal all on screen, as they are either seen having sex or playing a publicly observed strip poker game. However, as the relationship, and later friendship, between the two begin to crumble, the question remains why the cameras kept filming.
Flames is apparently what happens when you begin to make a film as an art piece and it turns into a documentary about the end of your relationship. Both Josephine Decker and Zefrey Throwell are credited as directors, even though it becomes obvious that Josephine became more fed up with the project as the years went on. Unless you are really into sexually charged performance art, that also happens to be about the end of a relationship, it is hard for me to fully recommend Flames.

WATCHABLE
Screenings