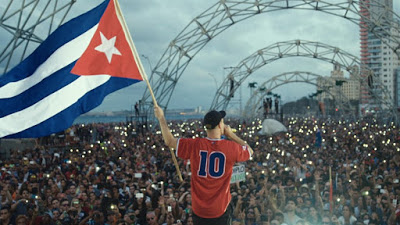 Electronic dance trio Major Lazer becomes the first major American act to play in Cuba in Give Me Future. After the United States set out to improve their relationship with Cuba, the electronic dance trio Major Lazer decide to play a concert in the communist country, becoming the first major American act to do so in years. The band uses the help of an underground distribution service Paquete to promote their show, which ends up attracting nearly half a million people.
Consisting of the trio of Diplo, Jillionaire, and Walshy Fire, Major Lazer is a dance trio that have found major success around the would, over their decade-long existence. Having performed in every Caribbean country except Cuba, the improvement of US relations with the country provides an excellent opportunity for one of the largest concerts ever. Despite concerns over the Cuban people's familiarity with Major Lazer and the constant fear of the government pulling the plug, the concert ends up being a huge success.
I will be the first to admit that the music of Major Lazer is not something I listen to on a regular basic, which somewhat lessens the appeal of Give Me Future for me. That said, this film is just as much about the historic nature of the concert than the show itself. It is also quite a sight seeing a crowd of like 400,000 people dancing to Major Lazer's beats. While probably best for fans of Major Lazer, Give Me Future is still a concert film worth checking out.

FAIR