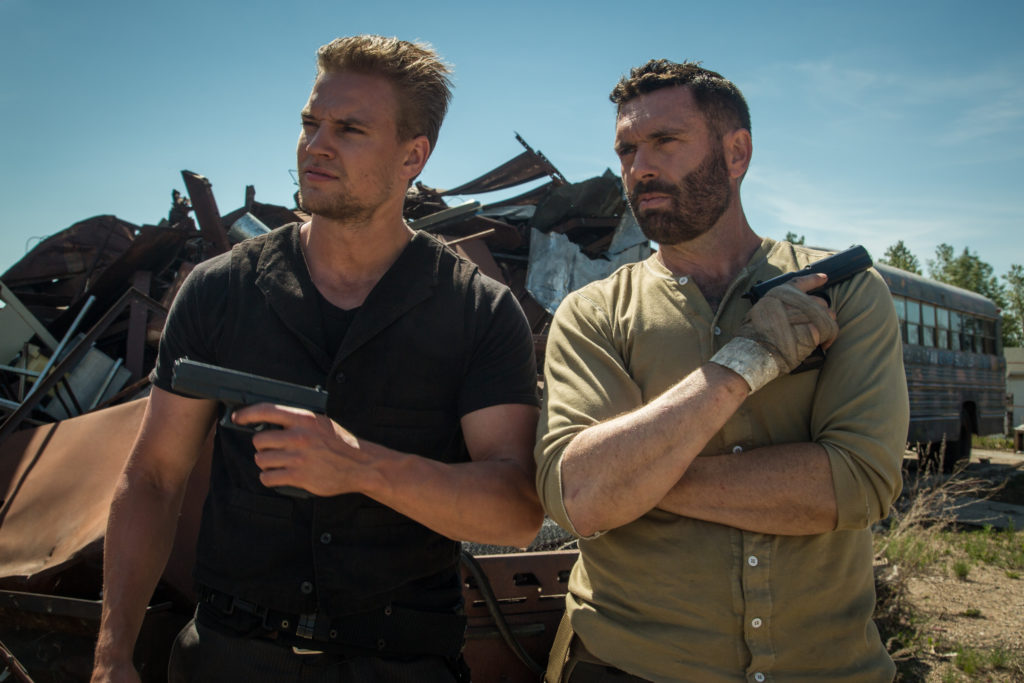 Two estranged brothers are forced to do one last smuggling run across dangerous terrain in SuperGrid. In a post-apocalyptic future, mining conglomerates have turned the land into a vast wasteland known as the SuperGrid. Deke (Marshall Williams) is forced by Lazlo (Jonathan Cherry) to do one last run across the US/Canada border. To accomplish this job, Deke has to bring his brother Jesse (Leo Fafard) out of retirement and the two make the dangerous trek across the Grid, with overwatch support by North (Natalie Krill) and Owl (Daniel Maslany).
SuperGrid is a post-apocalyptic action/thriller directed by Lowell Dean (WolfCop). The film takes in a near future where a mining conglomerate named Sino-Gazem has created a hyperstructure that has turned the country into a wasteland and resulted in an epidemic of a horrible lung disease. Estranged after the death of their sister, Deke and Jesse reluctantly have to re-team for one last run and along the way they have to deal with cannibalistic marauders and various rebel gangs, such as the one at the border run by Kurtis (Jay Reso).
After receiving some cult success with his WolfCop films, Lowell Dean plays it a bit more straight with SuperGrid. The film reunites most of the cast of WolfCop, such as Leo Fafard as Jesse, Jonathan Cherry as the antagonist Lazlo, and Amy Matysio as mechanic Spanner. They are joined by Marshall Williams (Glee) as Deke, Natalie Krill (Below Her Mouth), and Jay Reso, aka former WWE Superstar Christian, as Kurtis. While it's pretty obvious that this is a film made on a low budget, SuperGrid is still a fine enough post-apocalyptic thriller. While some of the acting is a bit cheesy, the film features much bloody violence, which borders on over-the-top in the climatic gunfight. Overall, while not as memorable as WolfCop, SuperGrid is still a fine effort from Lowell Dean.