Blood Quantum (2019)
1h 36min | Horror | 5 September 2019 (Canada)
Summary: The dead are coming back to life outside the isolated Mi'gMaq reserve of Red Crow, except for its Indigenous inhabitants who are strangely immune to the zombie plague.
Countries: CanadaLanguages: English, Micmac
The members of an isolated Mi'gmaq community find themselves immune to a zombie outbreak in Blood Quantum. Traylor (Michael Greyeyes) is the chief police officer of the Red Crow Indian Reservation in 1981, who along with his wife Joss (Elle-Máijá Tailfeathers) has to deal with the delinquent activities of his sons Lysol (Kiowa Gordon) and Joseph (Forrest Goodluck), the latter of whom has a pregnant girlfriend Charlie (Olivia Scriven). However, one day the dead start coming back to life and the members of the reservation find themselves immune to the effects of being bitten. Six months later, the reservation has become a fortification against the zombie hoard, with various members developing different opinions on how to deal with the non-native survivors.
Writer/director Jeff Barnaby follows up his 2013 feature film debut Rhymes for Young Ghouls with a zombie film that works as a thematical allegory about colonialism. When this zombie apocalypse hits, the members of the Red Crow Reservation find themselves divided into different factions. Some, such as Traylor, Joss, and Joseph want to make the reservation a haven of white survivors, as long as they are not bitten. However, others like Lysol develop an "us or them" mentality and want to keep the reservation free from possibly infected survivors. At the centre of this conflict is Joseph's pregnant white girlfriend Charlie, who is scared of what would happen if she or her baby got infected.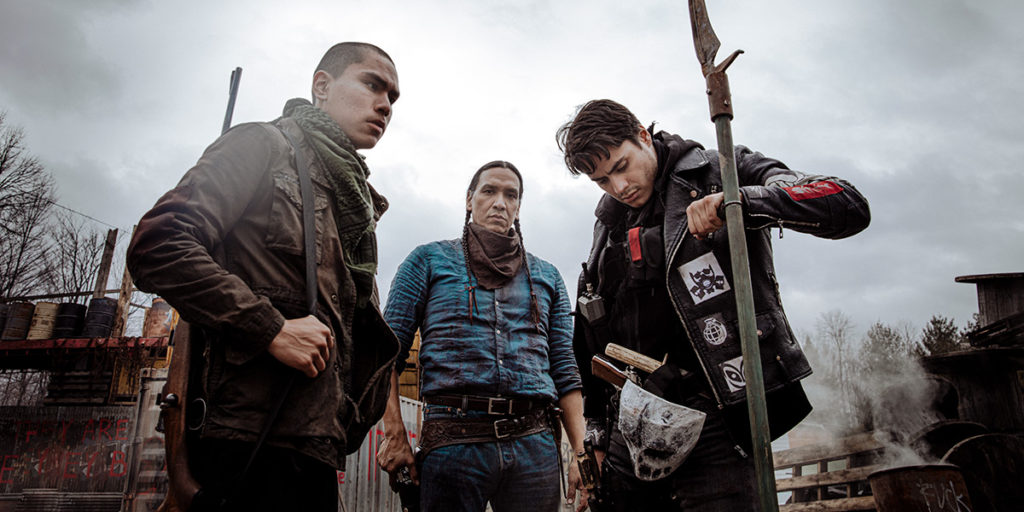 Blood Quantum continues Jeff Barnaby's ability to create genre films that provide social commentary on the plight of First Nation's communities. As is usually the case with zombie films, it is often the human conflict that becomes more important to the plot, even though the film does feature a number of unique and gory zombie kills. Overall, Blood Quantum is a satisfying sophomore effort from Jeff Barnaby.
TIFF19 screenings of Blood Quantum