The Assent (2019)
Horror, Thriller | 22 November 2019 (USA)
Summary: After a series of disturbing supernatural events in his home, Joel a young single father, comes to suspect that his young son may be possessed.
Countries: USALanguages: English
A single father comes to believe that his son may be possessed in The Assent. Joel (Robert Kazinsky) is a widowed man suffering from schizophrenia, who is struggling to raise his young son Mason (Caden Dragomer), while going for regular appointments to his psychiatrist Dr. Maya (Florence Faivre). Joel discovers that Mason has been seeing shadowing figures around the house and eventually comes to believe that his son may be possessed. This results in Joel recruiting the help of controversial priest Father Lambert (Peter Jason), along with Brother Michael (Douglas Spain), to perform an exorcism on Mason.
With The Assent, writer/director Pearry Reginald Teo seeks out to provide his own twist to the exorcism subgenre of horror films. Taking its name from the third and final stage of possession, where a demon has completely taken over its host, The Assent follows the saga of Joel and his son Mason, who begin to experience a supernatural presence at their home. After an outburst by Joel and Mason scares babysitter Cassie (Hannah Ward), Mason's case attracts the attention of Father Lambert, who has recently been released from prison for performing an exorcism that resulted in a child's death.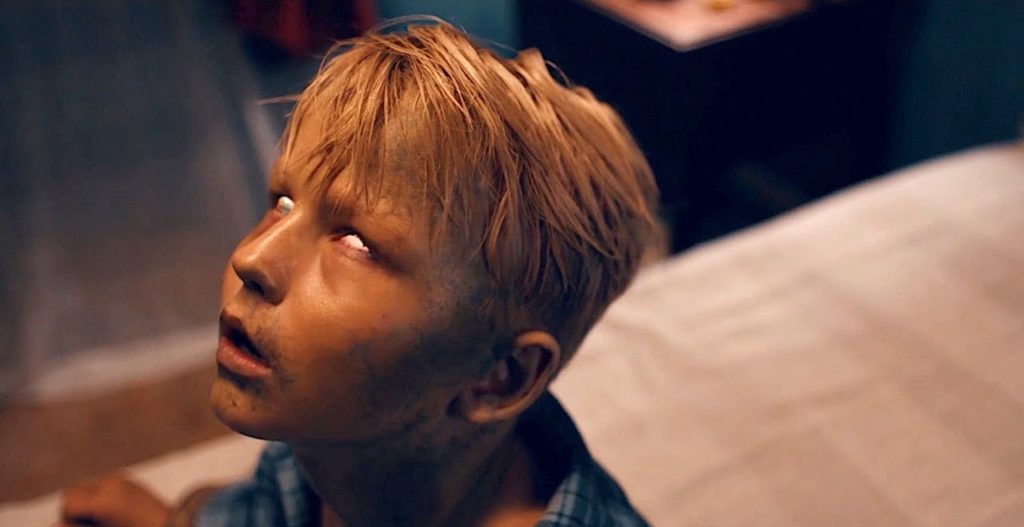 The Assent is a film that features allusions from everything from The Exorcist to The Exorcism of Emily Rose, the latter of which also involved a priest arrested for performing an exorcism that resulted in death. While Pearry Reginald Teo is obviously trying to add this own twist to this subgenre, particularly the appearance of very Lovecraftian multi-faced demon apparitions, the film ultimately feels like a near parody of exorcism films, particularly the very over-the-top performance by Peter Jason as Father Lambert. While The Assent still has its moments, I ultimately found the film somewhat disappointing.