His story changed history
Overview
Pennsylvania, 1956. Frank Sheeran, a war veteran of Irish origin who works as a truck driver, accidentally meets mobster Russell Bufalino. Once Frank becomes his trusted man, Bufalino sends him to Chicago with the task of helping Jimmy Hoffa, a powerful union leader related to organized crime, with whom Frank will maintain a close friendship for nearly twenty years.
Actors
Starring:
Robert De Niro
,
Al Pacino
,
Joe Pesci
,
Stephen Graham
,
Ray Romano
,
Harvey Keitel
,
Bobby Cannavale
,
Anna Paquin
,
Stephanie Kurtzuba
,
Kathrine Narducci
, Welker White, Jesse Plemons, Jack Huston, Domenick Lombardozzi, Paul Herman, Louis Cancelmi, Gary Basaraba, Marin Ireland, Sebastian Maniscalco, Steven Van Zandt, Lucy Gallina, Jonathan Morris, Dascha Polanco, Bo Dietl, Aleksa Palladino, Daniel Jenkins, Jim Norton, Billy Smith, Kevin O'Rourke, Action Bronson, Glenn Cunningham, Paul Ben-Victor, Patrick Gallo, James Martin, Jake Hoffman, Barry Primus, Danny A. Abeckaser, Anthony J. Gallo,
J. C. MacKenzie
, Joseph Bono, Jamil Antonio Stefan, Louis Vanaria, Craig Vincent, John Polce, Joseph Riccobene, Vinny Vella, Thomas E. Sullivan, John Cenatiempo, Robert Mladinich, Rich Reilly, Robert Funaro, Tess Price, Jennifer Mudge, India Ennenga, Jordyn DiNatale, Kate Arrington, Bernie Martin, Philip Suriano, Tony Suriano, Jason A. Iannacone, Michael C. Brennan, James P. Harkins, Al Linea, Garry Pastore, Frank Pietrangolare, Frank Aquilino, Johnny T. Sollitto, Patrick Murney, Samantha Soule, Richard V. Licata, Vito Picone, Larry Mazza, Craig DiFrancia, Ira Drukier, Jon Bruno, Paul Borghese, Steven Maglio, James Licata, Veronica Alicino, Mike Massimino, James Ciccone, Ron Castellano, Marco Greco, Meghan Rafferty, Aldo Sergi, James Lorinz, Jeffrey Paul, Robert C. Kirk, Vincent Maritato, Lawrence Smith,
Rebecca Faulkenberry
, Ken Wulf Clark, John Rue, Steve Routman, Fernando Vera, Peter Claymore, Charles DelGatto, Michael Gongora, Eugene Bunge, Matthew F. O'Connor, Cliff Moylan, Vincenzo DelRiccio, Steve Beauchamp, Alfred Sauchelli Jr., Joe Giorgio, Diana Agostini, Lauren Aparicio, Kelley Rae O'Donnell, John Garrett Greer, Jack Caruso, John Scurti, Thomas J. Jenkins, Steve Witting, Luke Smith, Brent Langdon, James D. Forsha, Giacomino J. Matra, Paul Pearlman, Frank L. Messina, Cilda Shaur, Dominick LaRuffa Jr., Erick Zamora, Joe Caniano,
Lou Martini Jr.
, Michael Bottari, John Bianco, Margaret Anne Florence, Siena Marino, Lori Arkin, Nicholas Chrysan, Samantha Coppola, Logan Crawford, Jeff DeHart, Mark Fairchild, Blaise Corrigan, Jill Brown, Tim Neff, Matt Walton, Peter J. Fernandez, Stephen Mailer, Gino Cafarelli, Robin Kerbis, Lucia Giannetta, Michael Romeo Ruocco, Anne Horak, Nina Lafarga, Clark Carmichael, Joseph Russo, Jeremy Luke, Barbara Eyland, Tracy J. Everitt, Saint Marino, Mario Corry, Johnny Potenza, Joe Passaro, Patrick Borriello, Alfred Nittoli, David Aaron Baker, Stanley Burns, Bill Timoney, Thomas J. McDonald, Virl Andrick, Ernest L. Sanders Jr., Bill McHugh, Kevin Kane, Amelia Brain, Craig Castaldo, Jacqueline Kennedy, John F. Kennedy, Fidel Castro
The true story of mob hitman Frank Sheeran is told in The Irishman. Frank Sheeran (Robert De Niro) is a World War II veteran, who worked as a driver of meat delivery trucks in 1950s Pennsylvania. This leads to Frank doing odd jobs for the mob and striking up a friendship with local crime boss Russell Bufalino (Joe Pesci). It isn't long before Frank becomes a trusted hitman and is introduced by Bafalino to Jimmy Hoffa (Al Pacino), the president of the Teamsters union, who gives loans to the mob from the union's pension fund. Over the years, Frank finds his loyalties increasingly divided between Bufalino and Hoffa and one day he has to make a dire decision.
The Irishman is a true-crime drama directed by Martin Scorsese adapted from the 2004 book "I Heard You Paint Houses: Frank "The Irishman" Sheeran and Closing the Case on Jimmy Hoffa" by Charles Brandt. The film tackles the events leading up to the still-unsolved 1975 disappearance of infamous union leader Jimmy Hoffa. The theory given in both the book and film is that Frank Sheeran had a major part to play in the disappearance, which he reportedly confessed to Charles Brandt prior to his death.
With a story that spans from the 1950s to the early 2000s, The Irishman utilizes digital technology to de-age stars Robert DeNiro, Joe Pesci, and Al Pacino, so they look younger or older, depending on when the story is taking place. The results are actually quite impressive, with there being no real uncanny valley effects, unless you are specifically looking for them.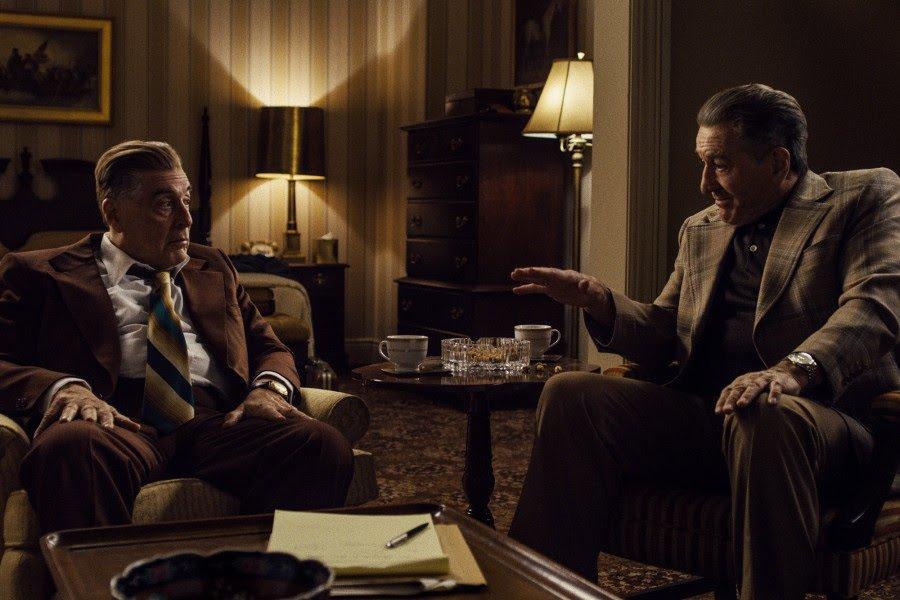 Like many true-crime films, it is hard to go into the film without having some idea how the story is going to turn out, particularly in regards to the fate of Jimmy Hoffa. It seems that Martin Scorsese was quite aware of this and opted to make The Irishman into a de facto mob history lesson, with every new gangster in the film being introduced with a title stating when and how they died, reinforcing that violent death is a common outcome for those in this lifestyle.
At 3h 29m, The Irishman is the longest film Martin Scorsese has released, however, I never really felt the length. Part of this comes on the strength of the performances, where Scorsese reunites with past collaborators such as Robert DeNiro, Joe Pesci, and Harvey Keitel, while the film also being the first time Martin Scorsese got to work with Al Pacino. Probably the most surprising performance in the film is Joe Pesci, making a return after nine years of retirement, giving a very nuanced performance as Russell Bufalino, which is the complete opposite of his Oscar-winning turn as the psychotic Tommy DeVito in 1990's Goodfellas.
If there is a criticism I have to make in regards to the casting, it's the decision to cast Anna Paquin as the adult version of Frank's daughter Peggy, yet she only ends up having one line of dialogue. While part of this can be attributed to the fact that Peggy increasingly comes to despise Frank and his lifestyle, evidenced by the many scowls Paquin gives, I'm still left to wonder if she had dialogue that was left on the cutting room floor. In fact, The Irishman gives the short shift to female characters as a whole, with the only other central female characters being the leads wives and daughters.
Altogether, I will say that The Irishman is a fine return to gangster films for Martin Scorsese, with the digital technology assisting greatly in telling this epic multi-decade story.
The Irishman is now playing