Overview
Howard Ratner, a charismatic New York City jeweler always on the lookout for the next big score, makes a series of high-stakes bets that could lead to the windfall of a lifetime.
Actors
Starring:
Adam Sandler
,
Julia Fox
,
Lakeith Stanfield
,
Idina Menzel
,
Kevin Garnett
,
Judd Hirsch
,
The Weeknd
,
Tilda Swinton
,
John Amos
,
Trinidad James
,
Eric Bogosian
,
Marcia DeBonis
,
Pom Klementieff
,
Jeremy Sample
,
Hailey Gates
,
Noa Fisher
,
Anthony Mecca
,
Jake Ryan
,
Natasha Lyonne
,
Sahar Bibiyan
,
Josh Ostrovsky
,
Robbie DeRaffele
,
Warren Finkelstein
,
Keith Williams Richards
,
Thomas Kominik
,
Maksud Agadjani
,
Ca$h Out
,
Andrea Linsky
,
Roman Persits
,
Paloma Elsesser
,
Mike Francesa
,
Gerard "Dash" McQuiller
,
Darien Howard
,
Jonathan Aranbayev
,
Todd Vulpio
,
Ronald Greenberg
,
Marshall Greenberg
,
Michael A. Sollecito
,
Sean Ringgold
,
Damany Eastman
,
Jacob Igielski
,
Shemsi Selimaj
,
Arthur Borukhov
,
Stuart Wenig
,
Mitchell Wenig
,
Mesfin Lamengo
,
Sun Zhi Hua-Hilton
,
Sunny Wu Jin Zahao
,
Liang Wei-Hui-Duncan
,
Daneke Muhugeta
,
Habtunu Africho
,
Raleem Moses
,
Keren Shemel
,
Max Bartos
,
Louis Anthony Arias
,
Aren Topian
,
Lino Eisenberg
,
Shiv Pai
,
Kerwin Frost
,
La Mar Taylor
,
William Sappe
,
Greg Yuna
,
Victor Plajas
,
Ricky Barksdale
,
Jennifer Venditti
,
Larry 'Ratso' Sloman
,
Benjy Kleiner
,
Svetlana B. Levitin
,
Roza Babekova
,
Jessica Mullayev
,
Izra Malakov
,
Brad Davidorf
,
Ralph Colucci
,
Marty Tendler
,
Conor Coyne
,
Alexander Gilkes
,
Jennifer Sacks
,
Wayne Diamond
,
Debbie DeLisi
,
Chad Neves
,
Ara Daglian
,
Glenn "Doc" Rivers
,
Erika Wachter
,
Paige Neuenschwander
,
Cassie Prusiensky
A jeweller with a gambling addiction hopes to score big with a rare gem in Uncut Gems. Howard Ratner (Adam Sandler) is the owner of a jewelry store in New York's diamond district, who owes a lot of money in gambling debts, particularly to his brother-in-law Arno (Eric Bogosian), who sends a couple of enforcers to Howard's shop to shake him down. Things begin to look up for Howard when he receives a rare opal he purchased from Ethiopia, which he hopes to auction off for a $1 million. However, this plan hits a snag when Howard's employee Demany (LaKeith Stanfield) brings basketball star Kevin Garnett into the store, who ends up walking off with the opal as a good luck charm.
Uncut Gems is a crime thriller from writer/directors Benny and Josh Safdie (Heaven Knows What, Good Time), which takes Adam Sandler out of his familiar comedic element, as he plays a shady jeweller, who has great difficulty settling his gambling debts. Howard's personal life is also a mess, as he is on the verge of a divorce with his wife Dinah (Idina Menzel), as he has cheated on her with his much younger employee Julia (Julia Fox). Howard hopes that the arrival of the opal will make everything better for him, but when Kevin Garnett walks off with it, Howard ends up chasing Garnett and Demany to try and get it back, all while Arno and his thugs are pressuring Howard to pay his debts.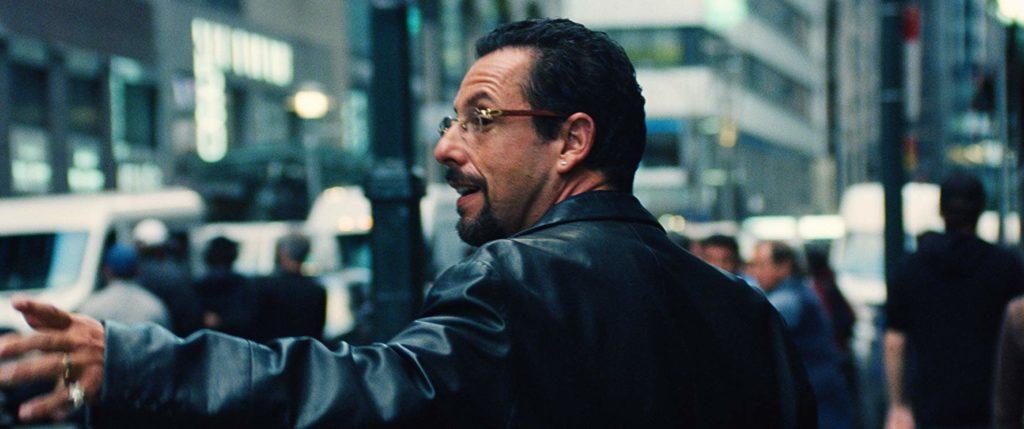 Probably the biggest selling point of Uncut Gems is that the film features a much darker and serious performance from Adam Sandler, who has spent the last number of years coasting on a Netflix deal that makes Uncut Gems the first film of his to get a theatrical release since Pixels in 2015. However, the role of Howard Ratner isn't too much of a stretch for Sandler, since the character is a real jerk, whose actions dig himself in the hole he finds himself in. Whether it be selling off borrowed jewelry to bet on basketball games or treating the people around him like dirt, Howard is generally not the type of character you'd typically root for.
If there is anything that the Safdie Brothers do successfully in Uncut Gems, it is that they at least make you feel bad for Howard and the situation he finds himself in, even if he might be getting what he truly deserves. The film really plays with your emotions, as it repeatedly makes it look like things are getting better for Howard, only for things to quickly become worse again. This all leads towards final moments of Uncut Gems, which will just leave you in shock.
Uncut Gems is Now Playing