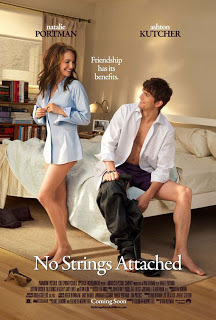 Ivan Reitman returns with his first film in five years with No Strings Attached. I usually don't like or see romantic comedies, but I decided to see this film due to Reitman's involvement, the somewhat adult premise, and the fact that the film stars Natalie Portman, who doesn't usually star in these types of films.
The film stars Portman and Ashton Kutcher as two people who begin a "friends with benefits" relationship. I quite liked the first half of the film which some hilarious (and adult) dialogue from Natalie Portman. However, the second half of the film fell into the usual romcom cliches.
Overall, while the film was overall ok, I have learned my lesson about going to romantic comedies (even if they star Natalie Portman).
7/10