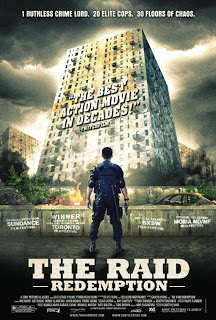 It was a busy day of movie screenings last night. First up was a screening of this Indonesian action film, which won the Midnight Madness People's Choice award at last year's Toronto Film Festival.
It was definitely a high-octane film. The film features many crazy martial arts movies, along with some extreme violence (with the most crazy and extreme being saved for the final fight). The story might be a little basic, but I doubt people will come see the movie for that.
Overall, it was enjoyable film and I would recommend it to anyone who is a fan of Asian action film.
9/10