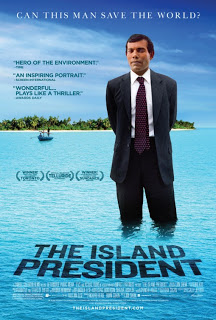 It seems that climate change documentaries are about a dime a dozen these days. However, I would say that The Island President stands out from the rest, because it puts a face to the issue.
The film focuses on President Mohamed Nasheed of the Maldives. Nasheed was elected president after a 30 year rule of a dictator and was greeted with an even bigger issue – the Maldives, which consists of 2000 islands, are slowly being washed away by rising waters.
The film follows Nasheed as he tries to spread the message about how the world's carbon emissions will have to be drastically reduced if the Maldives are expected to survive. The film builds up to the 2009 Copenhagen Summit, where Nasheed's recommended changes are met with disapproval from from other countries, most notably India and China.
While the inter-titles at the end alluded that Nasheed's plight was probably not enough to stop climate change, the film is still an excellent document at one man's attempt to save the world (a score full of Radiohead songs doesn't hurt either).
10 | LOVED IT