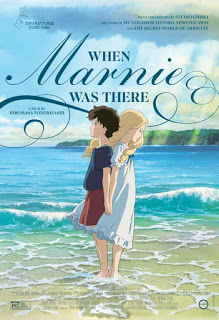 A shy and introverted girl makes a mysterious new friend in When Marnie Was There. Anna Sasaki is a 12-year-old asthmatic girl, who is sent by her foster parents to live with friends for the summer. Despite not being very good a socializing, Anna meets and befriends a mysterious blonde girl named Marnie, who lives in a mansion by the marsh. As Anna and Marnie become closer, it is learned that the two might have closer ties than expected.
The arrival of Studio Ghibli's When Marnie Was There, directed by Hiromasa Yonebayashi (The Secret World of Arrietty), is a bittersweet one. With central figures Hayao Miyazaki and Isao Takahata heading into retirement, the future looks uncertain for the Japanese animation studio, which announced last year that it was heading into a hiatus. However, When Marnie Was There shows that Studio Ghibli still has a lot to offer.
Like The Secret World of Arrietty, Hiromasa Yonebayashi adapted When Marnie Was There from the British novel of the same name, with the setting being relocated to the Japanese town of Kushiro, Hokkaido. It should be noted that I watched the original Japanese version of the film, instead of the English dub featuring the voices of Hailee Steinfeld as Anna and Kiernan Shipka as Marnie, with other roles being voiced by Catherine O'Hara, John C. Reilly, and Ellen Burstyn, among others.
When Marnie Was There is a hard film to describe without giving away some specific details, however it can be said that the film has both the elements of a mystery and a ghost story. Marnie's sudden appearance into Anna's life is the core to the film's plot and much of the film has Annie trying to find out who exactly this mysterious girl really is.
It is easy to see an animated film and automatically assume that it is only for kids. However, Studio Ghibli has demonstrated on many occasions that they can produce films that can be enjoyed just as well, if not more, by adults. While When Marnie Was There is no where near as depressing as Isao Takahata's Grave of the Fireflies, the film does have many touching and sad moments, particularly towards the end. This is enough to remind me of how great Studio Ghibli can be and I really do wish that When Marnie Was There is not the final film to come out of that studio.
★ ★ ★ ★ | LIKED IT