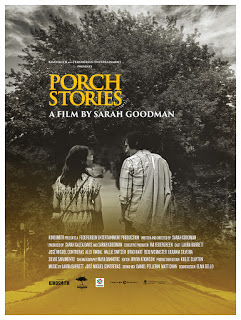 A number of stories intersect on summer's day in a residential Toronto neighbourhood in Porch Stories. Emma (Laura Barrett) is an ex-musician, who is preparing to move out of her rented townhouse with her fiance Stefan (Alex Tindal). During the day, Emma is reunited with old bandmate Gabriel (Jose Miguel Contreras), which causes her to rethink her situation. Emma's story is watched closely by the Portuguese couple across the street, who comment on the event as if it were a soap opera. Meanwhile, the brother/sister duo of Zack (Reid McMaster) and Brianna (Hallie Switzer) pursue their own dreams and have multiple interactions with Emma over the course of the day.
Toronto is a city full of many European-style urban neighbourhoods full of townhouses with large porches or verandas. It can be very easy to just sit on the porch all day and observe what's going on in the neighbourhood. You can either see what your neighbours are up to or can overhear snippets of the random people passing by. That is the vibe that Porch Stories, directed by Sarah Goodman (Army of One), is trying to recreate.
The central protagonist of Porch Stories is the intelligent, but restless thirty-something Emma. Emma was once a member of a band, but gave up this career after her father died. She has now settled into a life with her fiance Stefan and prepares to move out of the neighbourhood where she lived for quite some time. However, the certainty of Emma's future is questioned when her old bandmate (and ex-boyfriend) Gabriel reenters her life after spending much time in South America. There is a scene early in the film, where Emma gives her neighbour Brianna advice on how to end a love triangle. It quickly become apparent that Emma would have to follow her own advice and choose the love that is best for her. Should she go with the secure future with Stefan or the possible better match of Gabriel? That is a question that can't easily be answered.
In addition to Emma's story, the focus switches to many of the other individuals in this neighbourhood. This includes Zack and Brianna performing a duet or the elderly Portuguese couple across the street commenting on Emma's situation. There is also multiple random characters in the film, who walk by and give a small soundclip of the conversations they are having. This includes a tour guide, who comments that the neighbourhood will probably eventually be replaced by condos, as well as a woman commenting on her boyfriend with Asperger's. These random moments really help to make this neighbourhood feel alive and not merely a staged set.
Altogether, I have to say that Porch Stories is a very charming tale of urban residential life.
★ ★ ★ ★ | LIKED IT
More information on Porch Stories, including upcoming screenings, can be found on the film's website.