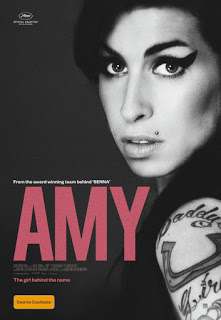 The rise and fall of singer Amy Winehouse is shown in Amy. Beginning her career as a teenager, young British jazz singer Amy Winehouse quickly rose to fame. However, following the international success of her second album "Back to Black," Winehouse found herself struggling with a substance abuse problem, which would eventually claim her life. Featuring archival footage and interviews, the story of Amy Winehouse's life and career are told in her own words.
Filmmaker Asif Kapadia (Senna) directs this biography, which tells the all too familiar story of a young artist, who has gone too soon. Amy Winehouse tragically became one of the more recent members of the infamous "27 Club," joining the likes of Jimi Hendrix, Janis Joplin, Jim Morrison, and Kurt Cobain of musicians who died at the age of 27.
Amy opts to tell its entire story through archive footage, which includes home movies and performance footage. The film is also narrated by Winehouse herself, using old interview clips, with the film also featuring audio interviews with various individuals that were part of Amy's life, ranging from friends and family members to fellow artists, such as Mos Def and Tony Bennett.
Amy does some vague finger-pointing towards her boyfriend Blake Fielder and father Mitchell Winehouse for contributing to the singer's continued substance abuse problem and eventual death. Since both provided interviews to the film, they probably aren't happy with how negatively depicted they are.depicted in the film. One thing that is for sure is that it is the pressure's of her sudden fame that ultimately contributed to Amy Winehouse's downfall.
Amy is sure to be a documentary that will likely be enjoyed by fans of the singer. The film features much performance footage, with the lyrics to the songs showing up on the screen as they are sung. Presumably, this is meant to illustrate the very personal nature of Winehouse's lyrics, which would often reference events in her life.
I thought that Amy was a fine enough documentary, even though I also believe that it is getting overblown praise. Yes, it is somewhat shocking watching her rise and fall on screen, but this is a story that had been repeated time and time again in the music industry. In fact, it might make for a more interesting film to investigate why so many singers have died so young. That said, Amy still gets a mild recommendation.
★ ★ ★ 1/2 | FAIR