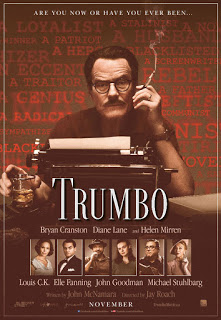 A blacklisted screenwriter fights back in Trumbo. Dalton Trumbo (Bryan Cranston) was one of the most elite screenwriters in Hollywood. However, during the Cold War, Trumbo is called out by gossip columnist Hedda Hopper (Helen Mirren) for his membership to the Communist Party, which results in him being blacklisted from Hollywood. Unable to write films under him own name and having been abandoned by Hollywood friends such as actor Edward G. Robinson (Michael Stuhlbarg), Trumbo and fellow blacklisted writers Arlen Hird (Louis C.K.) and Ian McLellan Hunter (Alan Tudyk) begin to write under pseudonyms for schlocky film producer Frank King (John Goodman).
Trumbo is a biographical film focusing on the Hollywood blacklist, which came about as a result of the House Un-American Activities Committee's crackdown on Communist activity in the United States during the Cold War, which had support in Hollywood by the likes of Hedda Hopper and John Wayne (David James Elliott). Dalton Trumbo was one of ten screenwriters subpoenaed to testify to congress about supposed Communist propaganda in his films. When he refuses to do so, Trumbo ends up having to do a jail term and is forbidden to write for any Hollywood studio. This causes stress on both himself and his family, including wife Cleo (Diane Lane) and oldest daughter Nikola (Elle Fanning).
Trumbo is quite a bit of a departure for director Jay Roach, who is best known for his comedic work, such as Austin Powers: International Man of Mystery and Meet the Parents. The film centres on a very dark period of Hollywood, as many were hunted down for their political beliefs. At the same time, Dalton Trumbo and his fellow blacklisted screenwriters found a way to fight back and continue to write films using pseudonyms. It is quite ironic that Trumbo would go on to win not one, but two Oscars while blacklisted, proving the list to be a bit of a joke, even though it caused much stress for Trumbo and his family. Bryan Cranston is quite excellent in his performance as the titular character, proving that he is much more than just Walter White. Helen Mirren is also quite good in her supporting role of Hedda Hopper, with the film also having a stacked supporting cast that includes Louis C.K., Alan Tudyk, Michael Stuhlbarg, John Goodman, and Stephen Root.
The Hollywood Blacklist was a dark time in the history of cinema. However, Trumbo is a film about one screenwriter, who fought back against this oppression, with Dalton Trumbo going down in history as one of the all-great screenwriters. While not much more than a standard biopic with notable performances, Trumbo is still a film worth checking out.

LIKED IT