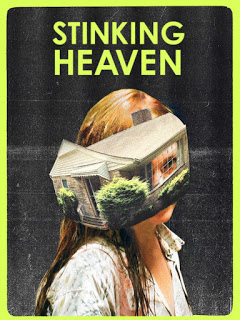 A sober living commune slowly begins to fall apart in Stinking Heaven. Jim (Keith Poulson) and Lucy (Deragh Campbell) have opened up their Passaic, N.J. home to those recovering from substance abuse. The occupants include Kevin (Henri Douvry), who just married fellow occupant Betty (Eleonore Hendricks), and Kevin's teenage daughter Courtney (Tallie Medel). When new arrival arrival Ann (Hannah Gross) joins the commune and begins to stir up trouble, this tight knit community slowly begins to fall apart.
From up and coming indie filmmaker Nathan Silver (Uncertain Terms) comes this period drama about a sober living commune in 1990s New Jersey. In keeping with the film's period setting, Stinking Heaven is shot on betacam and presented in a 1.33:1 aspect ratio. Other than a basic plot outline by Nathan Silver and Jack Dunphy and collaboration with the lead actors in the development of their characters, Stinking Heaven is a film that is mostly improvised on the spot.
The film begins with the marriage of Kevin with the much younger Betty. However, the marital bliss between the two doesn't last for long as Betty's ex-lover Ann joins the commune, which causes Betty to run off and Kevin to relapse. This is only one of the multiple problems that begin to plague the commune after Ann's arrival, with her seemingly not being very willing to follow the rules put on to her by Jim and Lucy. Actress Hannah Gross, the daughter of Paul Gross, stands out in the film with her performance of Ann, with a scene of her going absolutely crazy during a group reenactment session being on of the key moments of the film.
For the most part, Stinking Heaven has a very minimal presentation to it, with its somewhat grainy betacam footage and occasional synthesizer-based score. It can be hard exactly to pinpoint who exactly the main protagonist of the film is, even though it can be argued the story is being shown from Ann's perspective, with Lucy also getting some notable moments in the film, including being aggressively confronted by an ex in a supermarket. It would probably be best to say that the film is a collaborative effort, with each character having their own individual arc.
Altogether, Stinking Heaven is a drama with a very low key do-it-yourself feel, with the story not really having any real beginning or end to it. It is overall a highly improvised look at the slow dissolution of this sober living commune.

FAIR