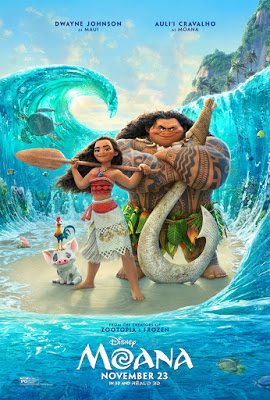 The heir of a Polynesian tribe goes on an adventure to save her island in Moana. Moana Waialiki (Auli'i Cravalho) is the heir to a tribe on the Polynesian island of Motunui. Despite her interest in the ocean, Moana's father Chief Tui (Temuera Morrison) prevents her from going past the reef. However, as the crops get spoiled and the fish become scarce, Moana is encouraged by her grandmother Tala (Rachel House) to find the demigod Maui (Dwayne Johnson) and sail with him to the island of Te Fiti and restore the heart stone stolen by Maui a thousand years earlier.
The latest film from Walt Disney Animation Studios is a story inspired by the beliefs of the Polynesian people of the Pacific Islands. The titular Moana is a young heir to the chief, who is chosen by the ocean to go on a quest to restore the heart of the island goddess Te Fiti and stop the devastation being caused by the lava demon Te Kā. As part of her quest, Moana and her absent-minded pet rooster Heihei (Alan Tudyk) go off to recruit the arrogant demigod Maui, who is more concerned with locating his lost magic fishhook.
Moana follows the lead of Brave and Frozen in the recent trend of Disney animated films with strong female protagonists. Moana adds another layer of diversity by focusing entirely on the non-white Polynesian culture, with all the characters being voiced by Polynesian actors, including 16 year old newcomer Auli'i Cravalho as Moana. While there have been some criticisms of Moana's depiction of Polynesian culture, particularly in regards to the depiction of Maui as a hefty brute, I believe that the film was overall quite respectful to the people. Moana in particular is a very strong character, who often proves herself better than Maui in getting herself out of tough predicaments.
Like many Disney animated films, Moana is a musical with Polynesian-influenced songs written by Lin-Manuel Miranda (of the hit Broadway musical Hamilton), Opetaia Foa'i and Mark Mancina. Some of the standout musical numbers in the film include the signature song "How Far I'll Go," Maui's comic musical number "You're Welcome," and "Shiny" sung by Flight of the Conchord's Jemaine Clement as the scavenging crab Tamatoa.
Altogether Moana is an enjoyable addition to the Disney animated canon, with a strong female protagonist to look up to.

LIKED IT