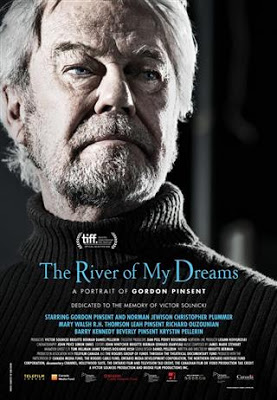 The life and career of Canadian screen icon Gordon Pinsent is revisited in The River of My Dreams. Born in Grand Falls, Newfoundland, Gordon Pinsent began his acting career when he lied his way into the lead role of a play. Over a career of more than 70 years, Pinsent has found acclaim in the theatre, television series such as Quentin Durgens, M.P., and films such as The Rowdyman, Away from Her, and The Shipping News. Pinsent reflects back on his life and career, with the assistance of animated reenactments.
Gordon Pinsent is without a doubt one of the most iconic of Canadian actors, with him finding success in film, television, and the theatre. Best known for his work produced in Canada, Pinsent also had a brief run in Hollywood in the 1970s, which included supporting roles in The Thomas Crown Affair and the blaxploitation horror film Blacula. However, it was not until returning to Canada that Pinsent found his true acclaim, which ranges from writing and starring in the comedy The Rowdyman to his starring role in Sarah Polley's 2006 directorial debut Away from Her.
Despite the iconic stature of Gordon Pinsent as an actor, The River of My Dreams is merely OK as a documentary. The film is built around various interviews with Pinsent, where he both tells his story and narrates various poetic works. Pinsent's early days are reenacted through various animated sequences, which CGI modeling that it noticeably of a low quality and really stands out an iffy element of the film. The film also fills out Gordon Pinsent's story with additional interviews with Pinsent's children, as well as the likes of Mary Walsh, Christopher Plummer, and Norman Jewison.
Despite being directed by Academy Award winning filmmaker Brigitte Berman (Artie Shaw: Time is All You've Got), there seems to be something that is missing from The River of My Dreams. If it wasn't for the fact that Gordon Pinsent is such a great storyteller, the film would have come off as quite monotonous. However, that doesn't mean that this isn't a documentary worth checking out, since it does provide a quite comprehensive biography of this Canadian icon.
When it is all said and done, The River of My Dreams is a fairly average biographical look at Gordon Pinsent. While Pinsent does give some humorous stories about his career, the monotonous tone and low-grade CGI reenactments end up working against this portrait of one of Canada's greatest actors.
FAIR
Now Playing