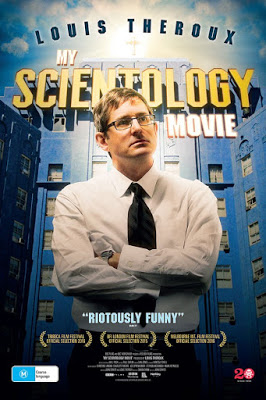 BBC journalist Louis Theroux sets out to make a film about Scientology in My Scientology Movie. The Church of Scientology is probably one of the most controversial organizations in the world. Combining spirituality and technology, Scientology is most well-known for the number of celebrities among its membership, most infamously Tom Cruise. Louis Theroux and director John Dowler set out to make a film about Scientology and they recruit former Inspector General Marty Rathburn to help recreate apparent violent events that happened within the organization. However, Theroux quickly finds out that Scientologists have started surveilling them.
My Scientology Movie arrives about a year after Alex Gibney's more straight-forward documentary Going Clear: Scientology and the Prison of Belief. Unlike Gibney's film, My Scientology Movie is less about the history of the organization and more about uncovering it's deepest, darkest secrets. To accomplish this, presenter Louis Theroux recruits former senior official Marty Rathburn to help recreate key events, with actors playing Scientology head David Miscavige and actor Tom Cruise. However, things quickly take a stranger-than-fiction turn when Scientologists begin to intervene in the film.
One of the most surreal moments of My Scientology Movie happens quite early on when actress Paz de la Huerta randomly appears during an interview between Louis Theroux and Marty Rathburn, leading both to assume that the Church of Scientology sent her to interrupt. However, that's probably one of the most least unusual events to happen in My Scientology Movie, with Louis Theroux's multiple run-ins with Scientologists being quite entertaining, yet also somewhat frightening. If anything, the biggest take away of My Scientology Movie is that it heavily suggests that Scientology is much more cult than religion, being run under the iron fist of David Miscavige.

LIKED IT
Now Playing: